LA DÉMARQUISE
Five dancers reflect on social discourses on aging, generations and women's conditions. Inspired by the iconographic and narrative work of Portuguese artist Paula Rego.
Five powerful dancers with different personalities bring the youth and flamboyance of femininity to the stage, without avoiding the darker zones, where the fight against aging becomes a frantic race. This is something that Louise Bédard, as a female dancer-performers has had to confront over the years: the aging body and the place of women within this new reality. La Démarquise takes on femininity, the state of being "feminine", and transports us into worlds that unsettle and astonish us.
Through magnified, wounded images of women, accompanied by audio, visual, physical and material stimuli, La Démarquise opens a dialogue of contrasts and liberation, pain and pleasure, carried by the poetry of the bodies on stage. Like the reflection transmitted by a prism, creating an image that can not satisfy her, La Démarquise makes light of herself.
To borrow various faces of women from myth or fantasy, or from reality—like this woman I saw for years, riding a little bicycle with her "homeless" bags. To piece stories together, to offer moments of mystery and poetry. To take certain paths because I felt an absolute need to walk on them. This is what I wanted to do with La Démarquise.
Louise Bédard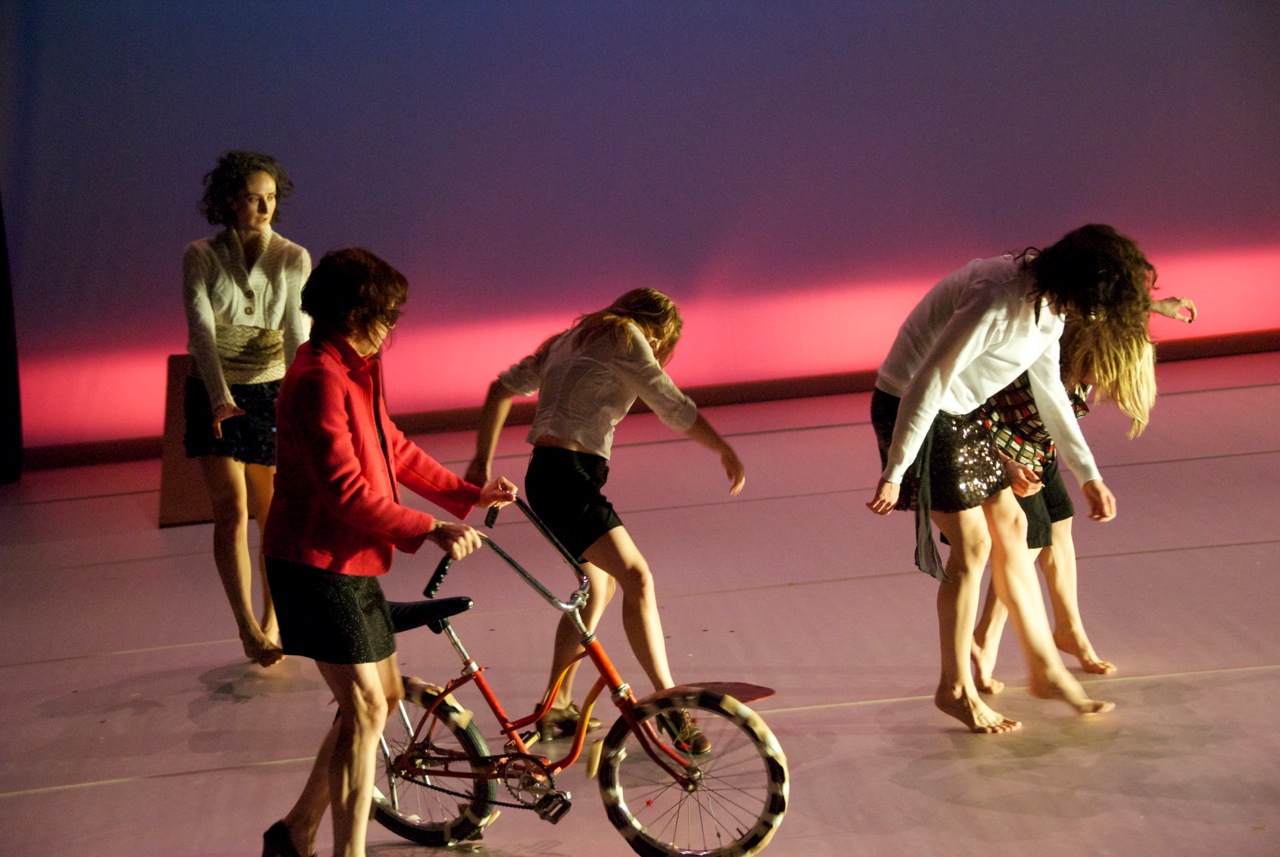 CALENDAR
November 25, 2017 – LaSalle, Centre culturel Henri-Lemieux, Montréal
November 28, 2017 - Collège Jean-Eude, Montréal
November 25, 2017 - Maison culturelle et communautaire de Montréal-Nord, Montréal
November 23, 2017 – Maison de la culture Villeray St-Michel Parc Ext. Montréal
November 21, 2017 - Maison de la culture Frontenac - Montréal
May 31, 2017 – OFF-FTA Circuit-Est Centre chorégraphique | Studio Jeanne-Renaud, Montréal
May 30, 2017 – OFF-FTA Circuit-Est Centre chorégraphique | Studio Jeanne-Renaud, Montréal
November 17, 2016 – OFF-Cinars Circuit-Est centre chorégraphique, Montréal
March from 16 to 19, 2016 – Agora de la danse, Montréal
ARTISTIC CREDITS
Year of creation : 2016 (long version) and 2017 (short version)
Running time : 105 minutes (long version) – 70 minutes (short version)

Choreography : Louise Bédard
Performers (during the creation) : Miriah Brennan - Marie Claire Forté - Alanna Kraaijeveld - Sarah Williams- Gabrielle Surprenant-Lacasse
Performers (for the Conseil des arts de Montréal on tour) : Miriah Brennan - Marie Claire Forté - Eve Garnier - Sarah Williams - Lauren Semeschuk - Gabrielle Surprenant-Lacasse
Make up : Angelo Barsetti
Set design : Marilène Bastien
Rehearsal and artistic advice : Christine Charles
Costumes : Valeska G.
Musical composition : Diane Labrosse
Lightning : Bruno Rafie
Technical direction (creation) : Catherine Germain
Technical direction (on tour) : Rasmus Sylvest
REVIEWS
"Se démarquiser" said Louise Bédard, everyone understands what he wants. We certainly take a curious look, almost loving, towards these women who exquisitely stand out. Word game aside, La Démarquise is original and well done. It provides a poetic's form and a very solid choreographic landscape.
Élise Boileau, Dfdanse.com - March 17, 2016

An expressionist work of a great choreographer from Québec that allows us to see better the complexity of women, this is what La Démarquise is.
Robert St Amour, Sur les pas du spectateur - March 19, 2016

Louise Bédard, or the art of creating sensitivity.
Claude Lafleur, Le Devoir - March 26, 2016
I couldn't look away. La Démarquise is visually arresting throughout and full of sharp humour, such as when a unicorn slices a red gash in a blank canvas. Tonally, it feels like the mood at the end of a long road trip: dangerously weird, full of inspiration and unexpected intimacy, verging on out-of-control.
Mark Mann, The Dance Current - April 8, 2016