EX-LIBRIS
The inspiring AnneBruce Falconer, one of the most renowned virtuoso dancers on the contemporary Canadian scene, was at the birth of the Ex-libris project. When she expressed to Louise Bédard her desire to experience the perils of the soloist for a first time, the choreographer gave her carte blanche to the collection. From the heart of this repertoire, AnneBruce chose two magnificent solo works:
Männgard
Commissioned by dancer Marc Boivin and inspired by his own text, Männgard premiered in 1993 as part of a program produced by Danse-Cité. The critically acclaimed work was toured extensively during the years that followed and helped to forge Marc Boivin's reputation as an exceptional interpreter.
Cascando
Commissioned by Ken Roy in 1999, Cascando was first presented as one of the works in a Danse-Cité program devoted entirely to Chopin. The work won its dancer, Ken Roy, an award for artistic interpretation. Cascando has been performed many times notably in Lebanon during a festival held in Beirut in May 2004.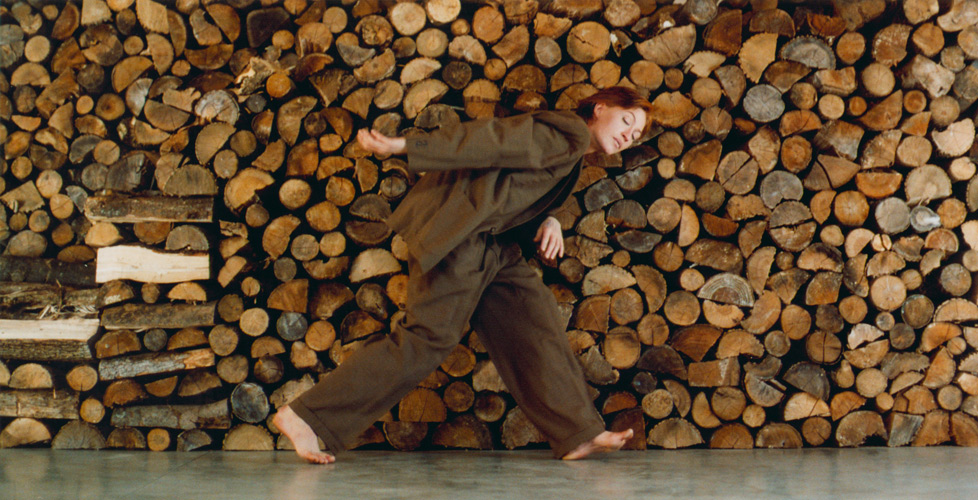 Imagined for the bodies of male dancers, Männgard and Cascando were revisited in Ex-libris from a new perspective —reinvented— because these two choreographies now met a new body, that of a woman. Ex-Libris was created with the collaboration of Marc Boivin and Ken Roy, the two original dancers. Louise Bédard also gathered around her some of the most solid artistic collaborators in Montreal — Jean Gervais, Angelo Barsetti and Michel F. Côté.
VENUES
Théâtre La Chapelle, Maison de la culture Notre-Dame-de-Grâce, Maison de la Culture de Parc-Extension, Salle Marie-Gérin-Lajoie, Festival New Moves, Maison de la culture du Plateau Mont-Royal, Dancemakers Studio, UQAM
ARTISTIC CREDITS
Year of creation : 2005
Running time : 60 minutes

Choreography : Louise Bédard
Performer : AnneBruce Falconer
Choreographic reconstruction : Marc Boivin and Ken Roy
Costumes and make up : Angelo Barsetti
Lighting : Jean Gervais
Music : Robert Marcel Lepage, Frédéric Chopin
Remix and sound environment : Michel F. Côté
Photo credits (show) : David Hou
Photo credits (promotion) : Angelo Barsetti
REVIEWS
So what a surprise to see this double bill about a woman's (the superb AnneBruce Falconer) journey through personal anguish conclude in such a quiet, emotionally wrenching way. Unforgettable.
Glenn Sumi's Top 10 Dance Shows, Now Magazine, Toronto - December 28, 2006
She moves like a cross between a prima ballerina and a slightly damaged marionette, mixing serene expressiveness with jerky stylized movement. She displays great control, at times moving with the flicker and speed of an old fashioned film, or like a a figure seen through a layer of slightly wavering water.
Joan Sullivan, The Telegram, St. John'S - June 23, 2008
[...] the virtuosity of the choreography and of the performance litterally explode.
Aline Apostolska, La Presse, Montreal - February 21, 2005