CE QU'IL EN RESTE - (What remains)
This imposing yet highly entertaining dance opus forms the second part of the creative cycle entitled Itinéraire multiple in which the choreographer explores the worlds of women artists from other cultures.
Following upon Elles, which was inspired by Tina Modotti and Mexico in the 1920s, Ce qu'il en reste is based on the life of Hannah Höch, an artist renowned for her photomontages and recognized as one of the first German Dadaists.
With the collaboration of multidisciplinary artist Jonathan Inksetter, videographer David Fafard and lighting designer Bruno Rafie, Louise Bédard created a set formed by immense screen displays that literally split up the space and capture light; on these, various moving figures are projected by video. The bodies of the dancers, alternately united and fragmented, like successive layers of characters who have been cut up and reassembled, alternately move through, reveal, and were acted upon by this composite universe — a veritable human collage that moves back and forth between solitude and synthesis, love and laughter, and the relationship with the other and the self.
Music by Michel F. Côté and Diane Labrosse, which they performed on stage, accompanied the dancers. Denis Lavoie's costumes and Angelo Barsetti's makeup and photography were also central to the work.
While Ce qu'il en reste was being developed, Louise Bédard Danse worked in association with the German Institut für Auslandsbeziehungen (IFA) and the Goethe Institute in Montréal to bring an exhibition of 31 works by Hannah Höch from Germany to the Maison de la Culture Côte-des-Neiges. From October 13 to November 20, 2005 this exhibition also showcased works — assembled by curator Lucie Bureau — by some of our own artists who each have their own way of exploring photomontage and collage using a variety of media. Some of Louise Bédard's own collages on paper were also displayed at the Maison de la Culture and in the foyer of Usine C. More information about the exhibit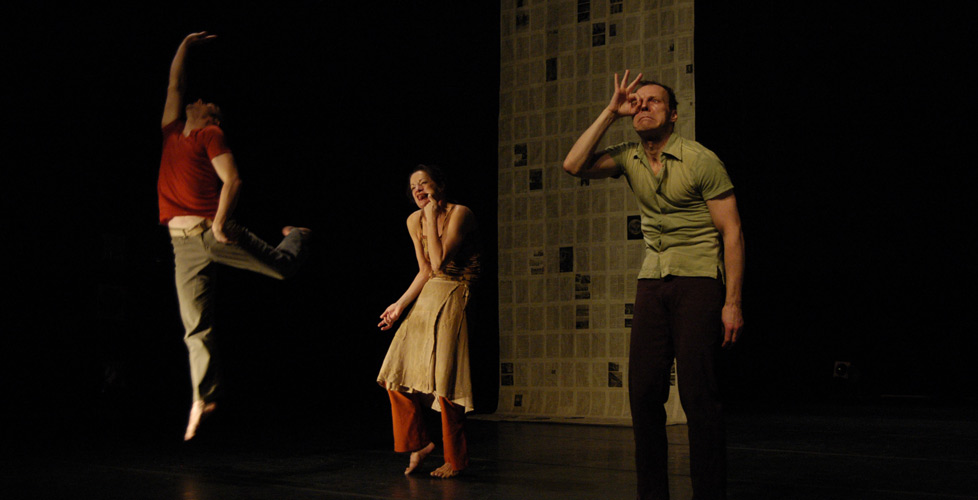 VENUES
Usine C, La Rotonde, Théâtre Centennial, Danceworks, Théâtre du Cuivre, Théâtre des Eskers, Centre culturel de Drummondville, Théâtre Outremont, Arrondissement St-Léonard, Arrondissement Villeray St-Michel, Maison de la culture de Côte-des-Neiges, Maison de la culture Frontenac, Maison de la culture du Plateau Mont-Royal, Théâtre de Jouy-le-Moutier, L'ARC, Sir James Dunn Theatre - Livearts Productions
ARTISTIC CREDITS
Year of creation : 2005
Running time : 1 hour and 14 minutes

Artistic direction and choreography : Louise Bédard
Rehearsal and artistic advice : Christine Charles
Set up : Jonathan Inksetter
Lighting : Bruno Rafie
Video : David Fafard
Music : Michel F. Côté & Diane Labrosse
Costumes : Denis Lavoie
Make up : Angelo Barsetti
Original performers : Kate Alton, Jean-François Déziel, Lea Helmstädter, Anne Le Beau, Michael Trent, Daniel Villeneuve
Apprentices : Catherine Castonguay, Pierre-Marc Ouelette
Other performers (reprise) : Catherine Castonguay, AnneBruce Falconer, Ken Roy, Sonya Stefan
Ce qu'il en reste was created during residences at Usine C (Montréal), the Fondation Jean-Pierre-Perreault (Montréal) and the PACT Zollverein Choreographic Centre (Essen, Germany). Le Groupe Dance Lab (Ottawa) and the Goethe Institute in Montréal also contributed to the work.
REVIEWS
A remarkable show (…) there are six dancers who are absolutely fantastic (…) two musicians on stage, Michael F. Côté and Diane Labrosse who are absolutely stunning (…) in perfect osmosis with the dancers (…) It is a pleasure!
Isabelle Poulin — Radio-Canada
A large collage in front of the Eternity that human life is (…) one hour of pure pleasure (…)
Aline Apostolska — La Presse
(…) Undeniable qualities: an unbridled imagination, the great generosity of the dancers (…)
Frédérique Doyon — Le Devoir